Best warranties in the industry
Enjoy peace of mind by entrusting your kitchen and bathroom project to Armoires Cuisines Action. A Quebec flagship with more than 30 years of experience, Armoires Cuisines Action creates more than 10,000 unique and custom kitchens and bathrooms each year.
Warranty Free of Charge
Armoires Cuisines Action is proud to offer the best manufacturing warranty in the industry, free of charge*.
This warranty, divided in several sections, covers manufacturing defects on adjacent listed items.
Our warranty is offered to the initial buyer and can be transferred to the subsequent buyer, except in the case of a financial recovery. Rest assured, you won't need to keep a copy of your contract to benefit from our warranty because we keep the information on your file.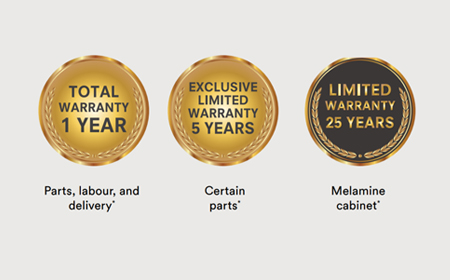 Additional warranty
At Armoires Cuisines Action, we know that your investment is very important, and to serve you better, we are proud to offer you a new exclusive warranty in our industry: the Peace of mind program
This 5 year total warranty on parts and workforce* offers you additional custom protection that ensures your investment is covered.
Amongst the exclusive benefits, get two free visits for situations or problem solving most often encountered in a kitchen.
For example, a laminate countertop that would accidentally leak and swell could be replaced free of charge.
In addition to these benefits, this warranty includes a perfect upkeep kit for your cabinets and countertops.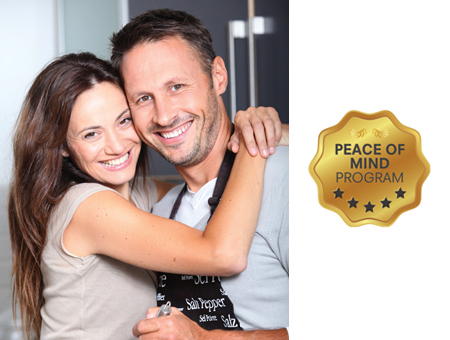 *From the date of purchase. Without prejudice to the exclusions provided. Consult your kitchen designer for details.