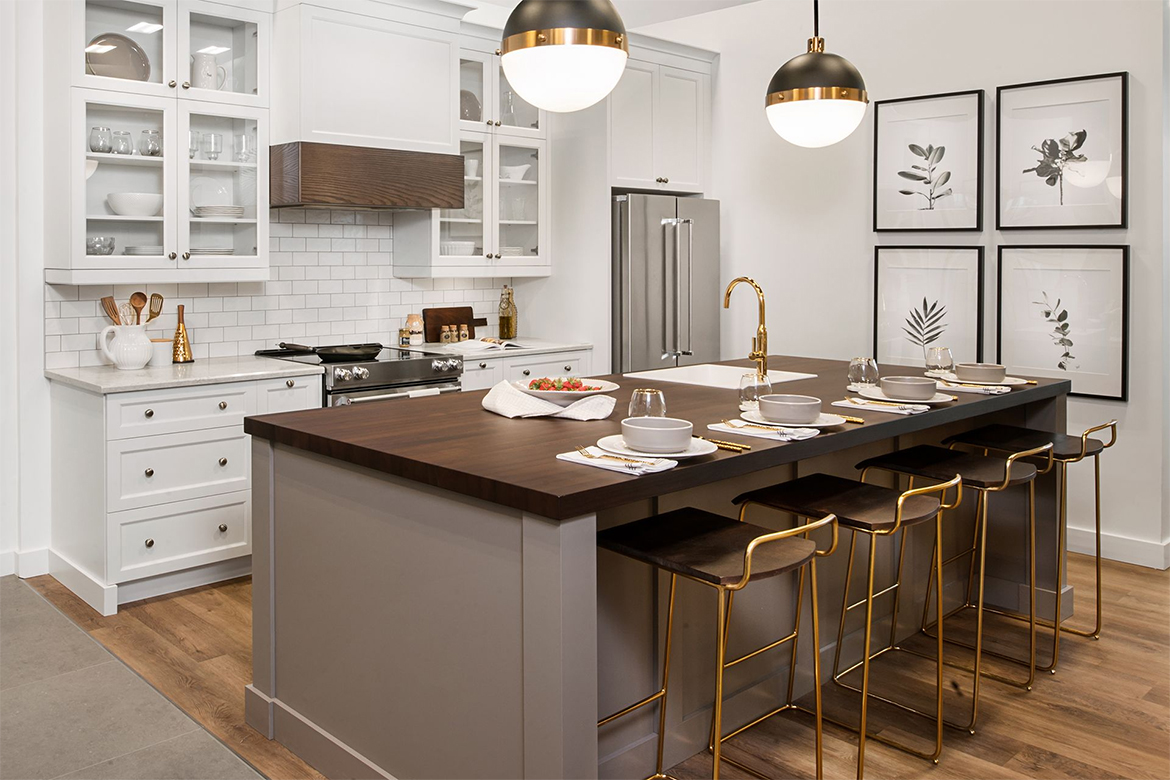 Many parameters influence the cost of a kitchen, that's why it is important to establish a budget at the very beginning in order to make renovations that will work within it.
How much does a kitchen cost?
This is the question most frequently asked when we talk about kitchen plans. Even if it sounds very simple, it requires a good reflection as many factors influence the cost. On average, the cost of a kitchen fluctuates around $16,000. However, our kitchen designers can design kitchens on any budget, might it be less and $10,000 or over $50,000?
What are the aspects to consider?
Dimensions of the room
Shape of the kitchen
Cabinet materials
Countertop materials
Accessories and hardware
Structural elements (decorative modules, glass doors, coloured inside, number of drawers, etc.)
With or without installation
How to determine your budget?
For kitchen cabinets and countertops, your bathroom and your laundry room, it is recommended to allocate a budget that amounts to 6% to 10% of the value of your house in order to ensure your return on investment.
How to get the most out of your investment?
It is important to inform your kitchen designer of your needs and priorities. By knowing what is most important to you, he or she will be able to offer options that will respect your budget. You will then be sure to invest in what is necessary and important to you.
For example, if you have a limited budget, instead of opting for a quartz or granite countertop, your kitchen designer could suggest a laminate countertop that imitates quartz, which will allow you to obtain a similar effect at a lower price. Or, if your layout is simple and you are handy, he or she might even suggest that you install the cabinets yourself.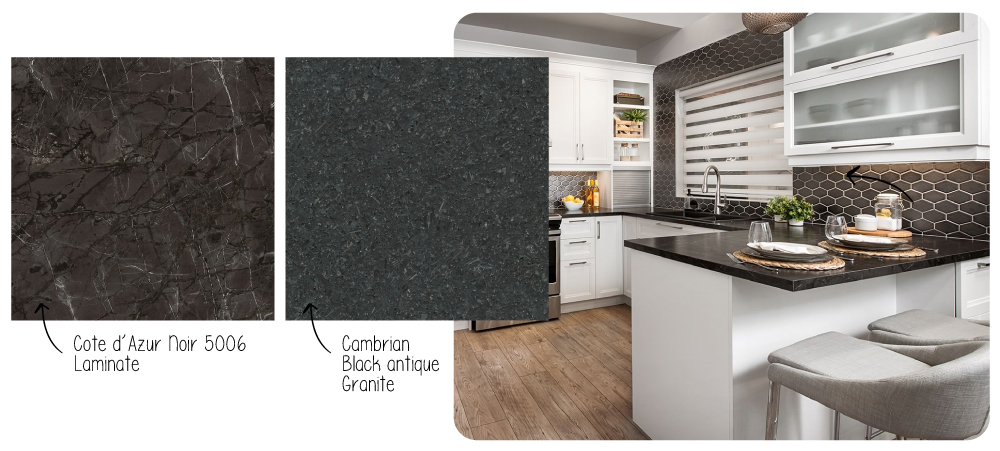 In order to offer a more affordable kitchen, the choice of countertops leaned towards laminate instead of grants. We therefore obtained a similar look at a more price.
How to ensure a durable investment?
Respecting the budget is important, but you also have to remember that you are doing your kitchen for yourself to increase your comfort and your quality of life. It isn't every day that you renovate your kitchen after all! It is the centre of your home, it may as well be durable and enjoyable for a long time.
Therefore, if you have been dreaming for years about noble materials or a large kitchen island, don't miss your chance. It is preferable to invest in something close to your heart instead of finding yourself with a kitchen you do not absolutely love after all. It wouldn't be favourable for you to have to redo your kitchen in two years because you regret your choices.
In addition, appraisers consider kitchen and bathroom renovations to be the most attractive residential investments, offering a rate of return of up to 100%1. Knowing that your investment will pay off, you can indulge in your favourite things with peace of mind.
Thanks to our advantageous financing, you can make smaller instalments which will be easier to fit in your budget. By doing this, you will enjoy, without further ado, of the space you so desired. To treat yourself will never have been so affordable!
1 According to the Appraisal Institute of Canada (AIC).