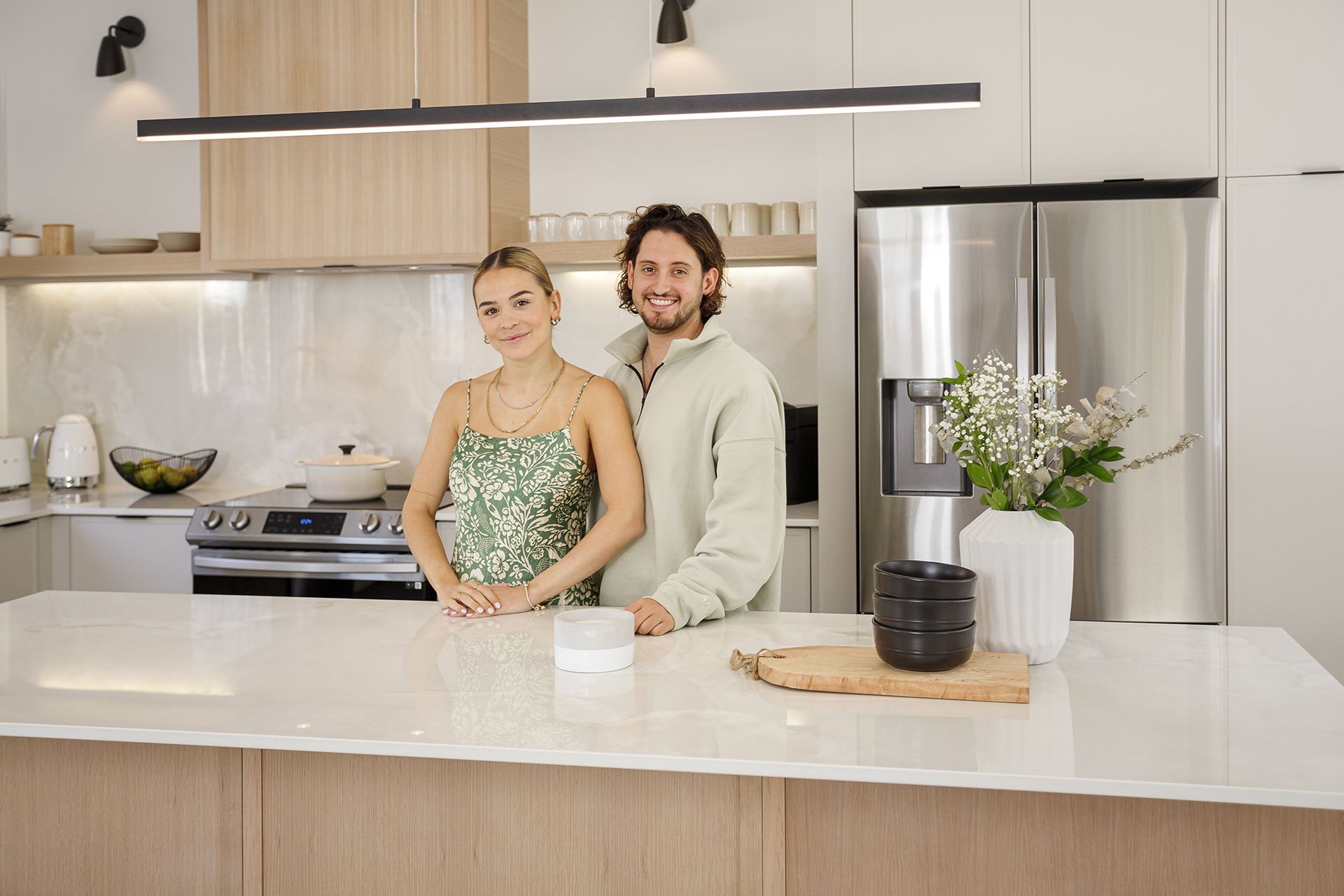 After considering condos, plexes, and flip flops, they came to the conclusion that it was better to build their dream home themselves! A kitchen by Armoires Cuisines Action was the perfect choice for their new home.
From the start, it was clear in Marina's mind, "You can't have an architect's house without having a kitchen that's tailored to your needs," she says. So there was no question of considering large surfaces and that's why Marina and Lou-Pascal visited us. Why choose Armoires Cuisines Action as your kitchen designer? Here's what weighed in the balance: our company has been established for over 30 years, our Quebec products and our invaluable support service from a kitchen designer.
As soon as they arrived at the branch, they were carried away by the advice of their kitchen designer, both from the point of view of ergonomics and the suggestions for accessories. Do they regret letting themselves go? Not for a second! After experiencing his new kitchen, Lou-Pascal tells us in episode 7 of their Web-Series: "We've been living it for a few days now and it's perfect! Every door is exactly where it should be!"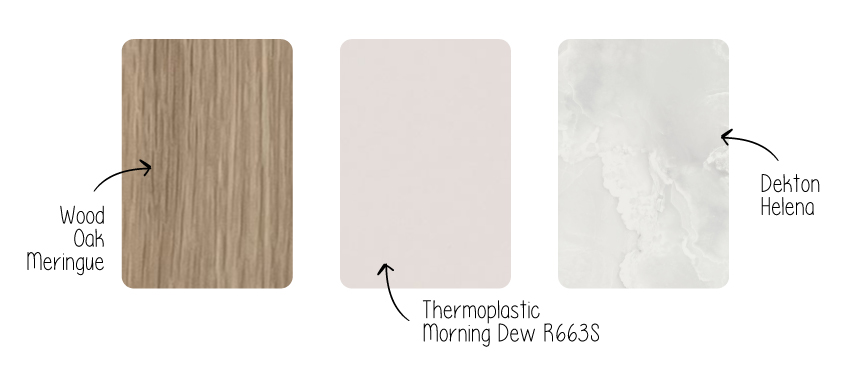 For the materials, they knew right away what they wanted: white oak (Meringue) like everywhere else in their new home. They also really liked the idea of white cabinets, but were finally tempted by a light gray thermoplastic (Morning Dew R663S) that is very fashionable these days. The cabinet doors are adorned with cat's tongue handles (BP989850990) that bring a very light touch of black, which is ideal in the couple's eyes.
On their countertops, they selected a 3/4 inch thick Dekton (Helena) for its ultra stain, scratch and heat resistant properties. With its translucent appearance of white and gray hues, the Helena model's color is inspired by natural onyx stone and its nuanced effect particularly appeals to Marina.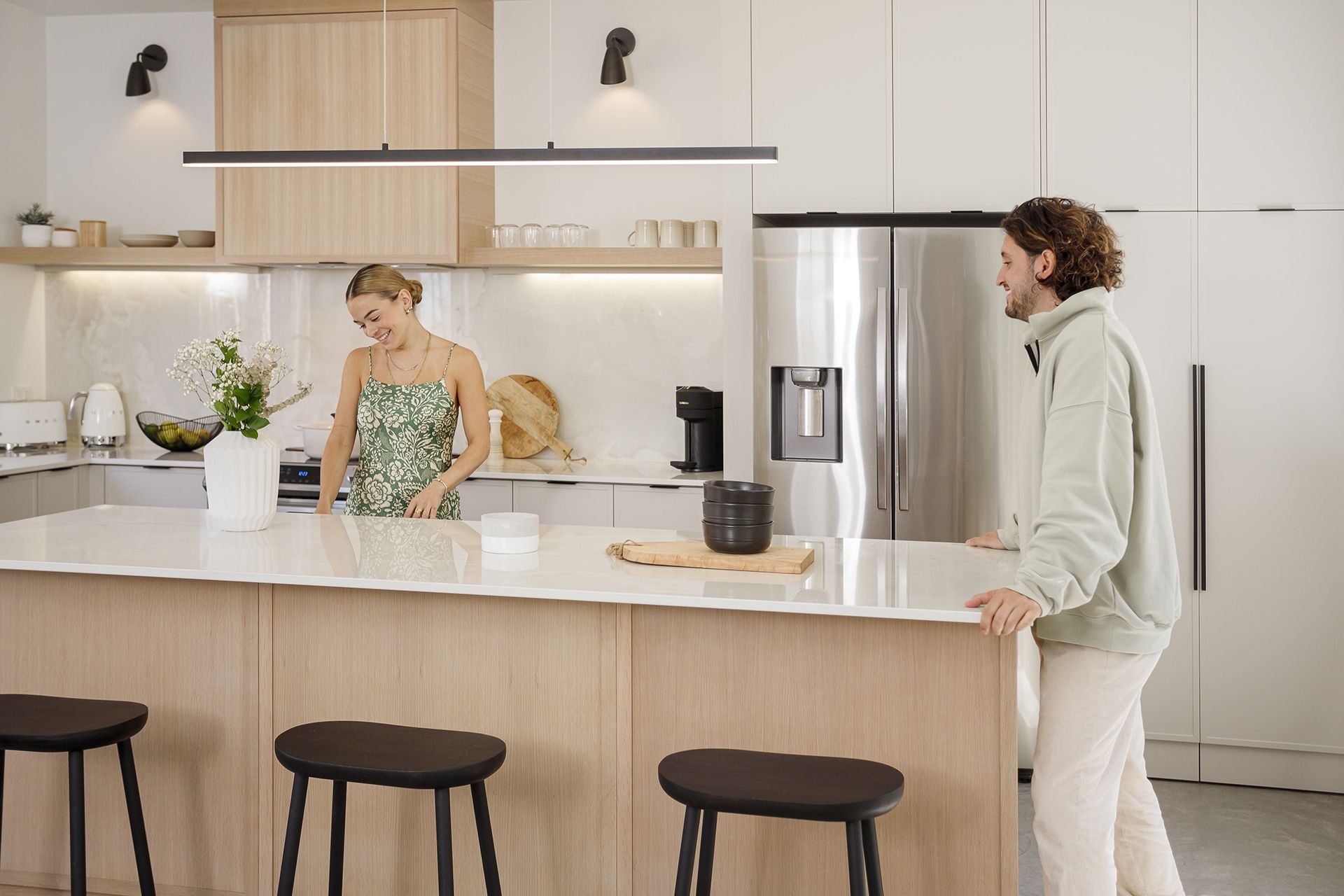 If they had to do it all over again, they would both opt for exactly the same kitchen. Marina and Lou-Pascal are literally in love with their new kitchen by Armoires Cuisines Action. Do we need to say that we're not a little proud of it? Of course not, and we love it too!