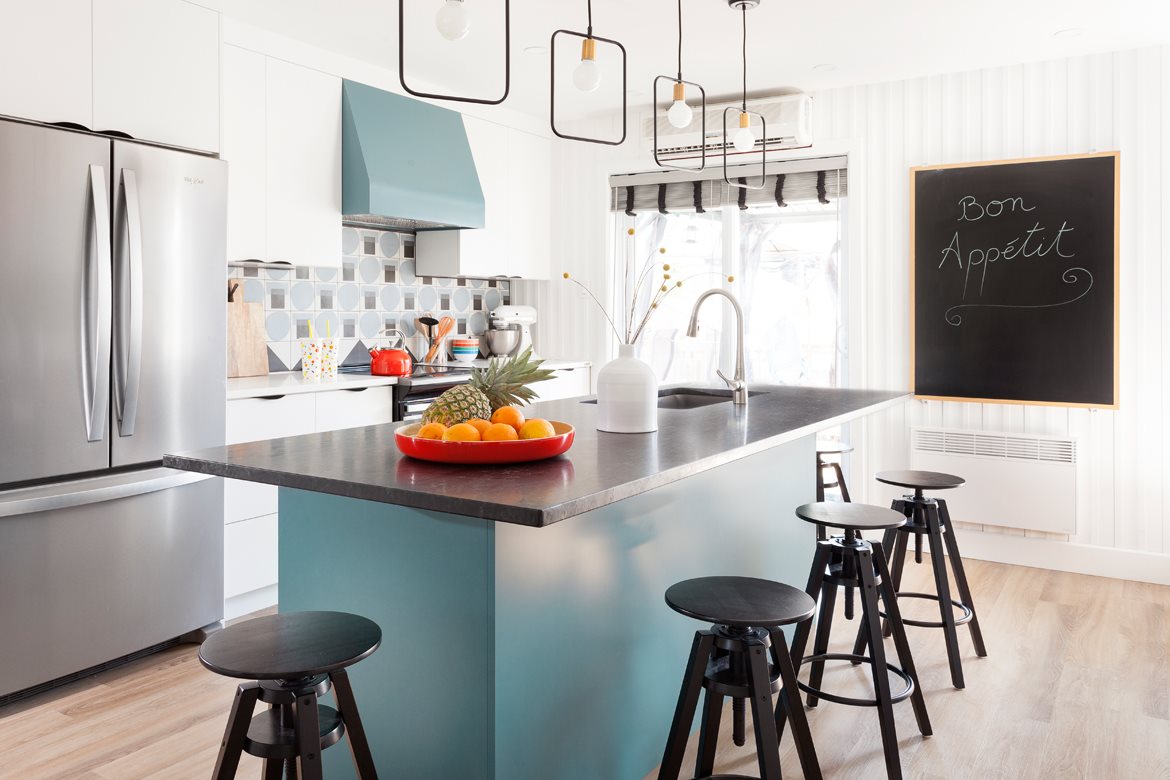 A meeting point between the occupants of the house, but often also between the living areas in an open room, the kitchen island displays its colors to stand out from the rest of the layout. Discover the colorful kitchen island, a trend that has been around kitchens for some time.
Bluish convergence
Nothing like a colorful kitchen island to transform the atmosphere in a kitchen! Here, it is the blue that sets the tone for this predominantly white decor. Conductive wires that are as refreshing as you want, the blue derivatives that replicate themselves through the base of the kitchen island, the ceramic with graphic patterns and the hood allow to visually structure the different activity areas, while subtly jazzing up the atmosphere. of the room. The wood-colored floor and the paneled wall even let hover a little beach house air.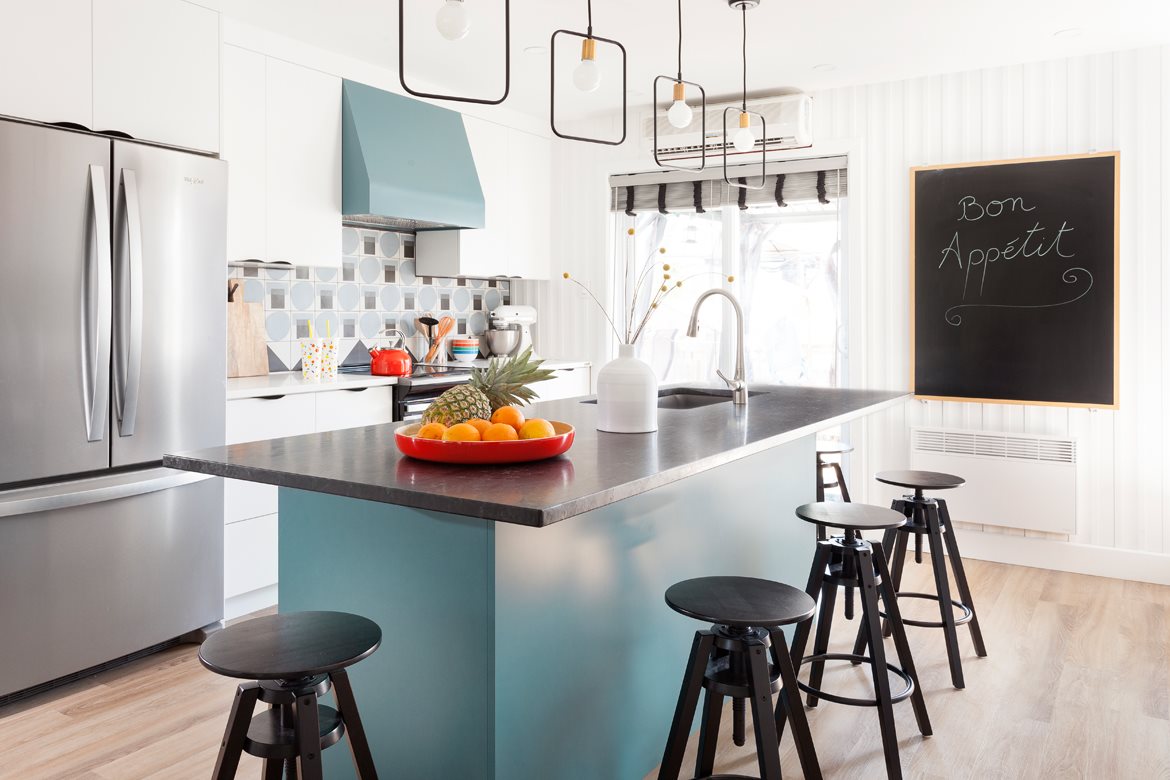 If the kitchen island plays the card of distinction in the heart of the kitchen, the colors that adorn it, that is the blue of the module and the anthracite of the countertop, remind us of those of the patterned backsplash, thus establishing a visual harmony with the cooking zone also refreshed by the bluish note of the hood. Enhanced with a ceramic insert identical to that of the backsplash, the bench seat creates a reminder with the color of the kitchen island. Note also the black boxes of the storage that connect the geometries and dark tones of the counter, the patterns of the tiles as well as the lighting!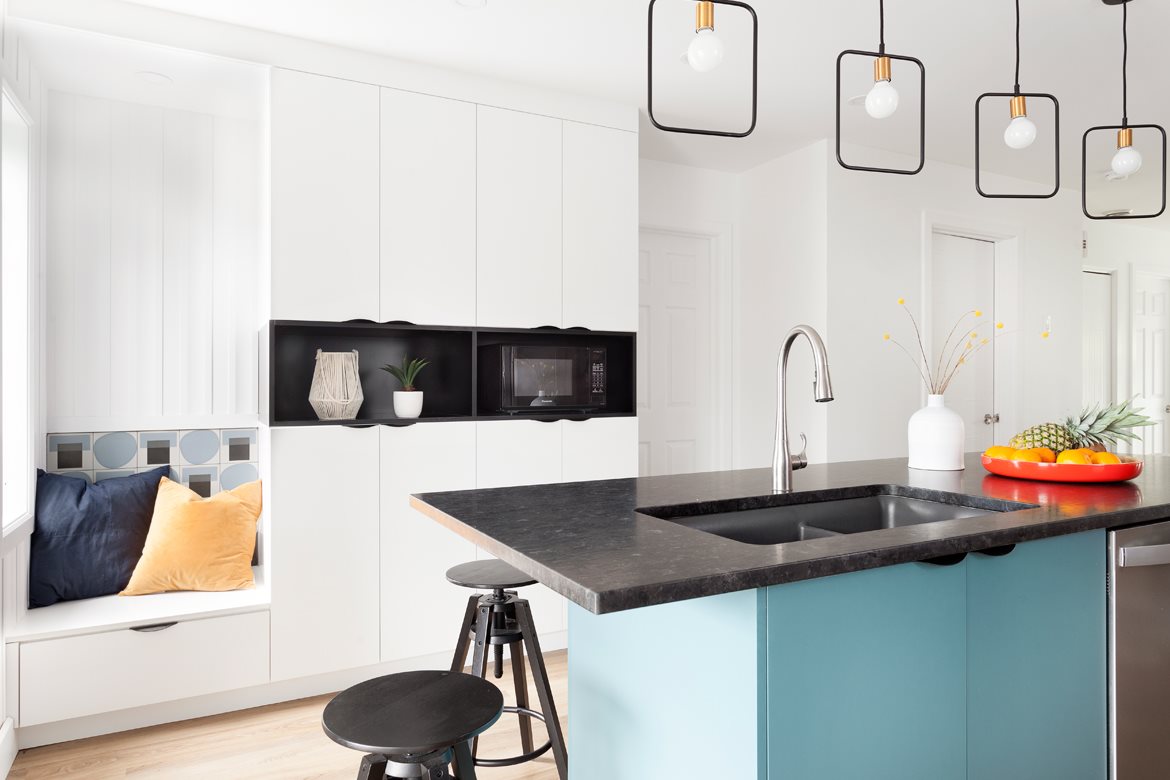 How to match the color of the kitchen island with the rest of the kitchen?
A colorful kitchen island lends character to a kitchen. For successful weddings, it is generally advisable to bet on similar or neutral tones for the other components of the room. For example, a sunny yellow kitchen island immediately injects light, but if you want to avoid overloading the decor, it is better to favor a soft shade, such as gray, for the rest of the room. Likewise, a verdigris kitchen island pairs well with pearl-colored cabinets. If we choose a dark color for the kitchen island, such as a midnight blue, we must make sure to counterbalance it with a bright background (white for the cabinets, walls or the counter, for example) in order to create a contrast.