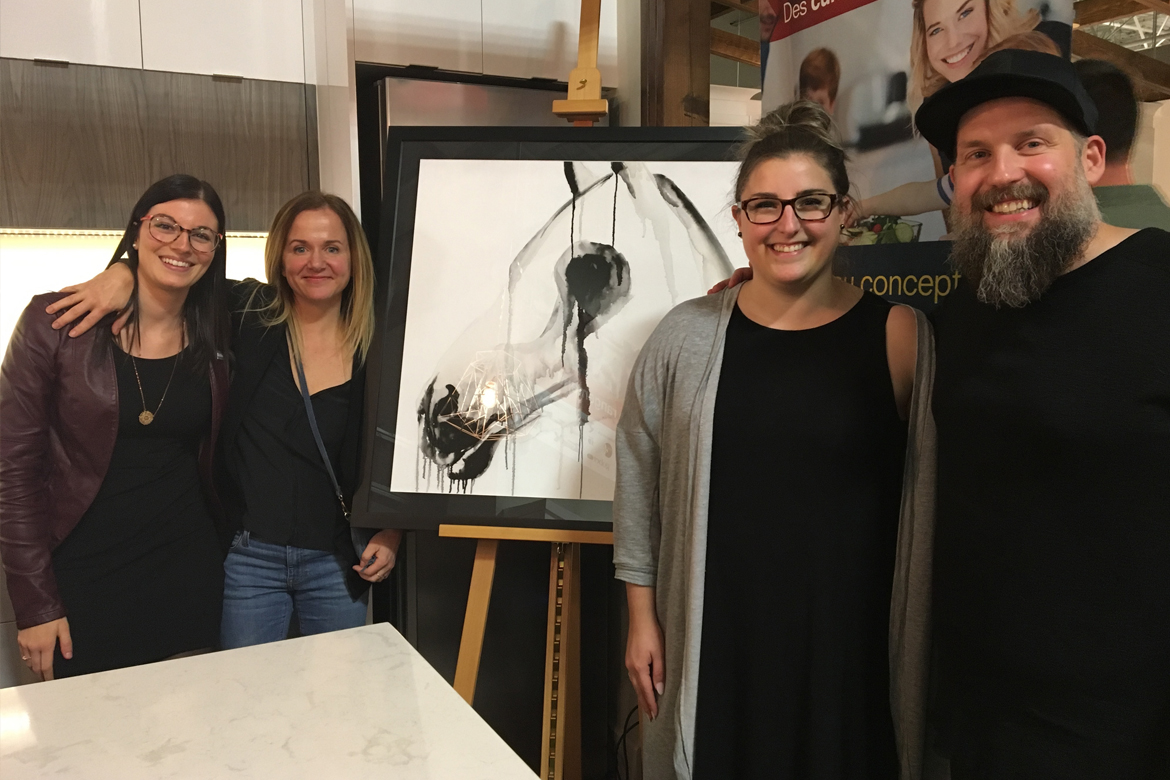 It is to underline the participation in our referral programs that we have organized, as every December, our VIP privilege evening. At Armoires Cuisines Action, we reward all referrals from new clients, both from our clients and from professionals in the design and architecture industry. These are very beneficial concepts for clients who refer us!
An evening worthy of the efforts to be rewarded!
Indeed, during the last 12 months, we have given a rebate of $86,631 linked to more than 175 references. Every time someone refers us and owns one of our referral cards - they get a check from us on top of being invited to this party! Awesome right?
During the privilege evening, in addition to discovering a ton of new products at our Boucherville branch, several thematic islands were offered on site. Some guest artists whose reputation is well established were also present, such as Brigitte Lafleur and her spouse Mario Provencher, Anne Casabonne, Pierre-François Legendre and Marcel Leboeuf. As you can see, we have put all the energy necessary to make our guests have a great evening!
Where the excitement was at its peak!
Beyond a great and busy evening, a wide range of thank you prizes and door prizes was on the menu! Plancher 2000, Brigitte Lafleur, Rouleau Granit, Germain Larivière and Marc-André Fillion Mixologue have so generously offered surprises to spoil our guests and we thank them on behalf of all. On behalf of Armoires Cuisines Action, the grand prizes for our referrers of two travel credits of $2,500 were drawn at the end of the evening. Here is an overview of the lucky winners in photos.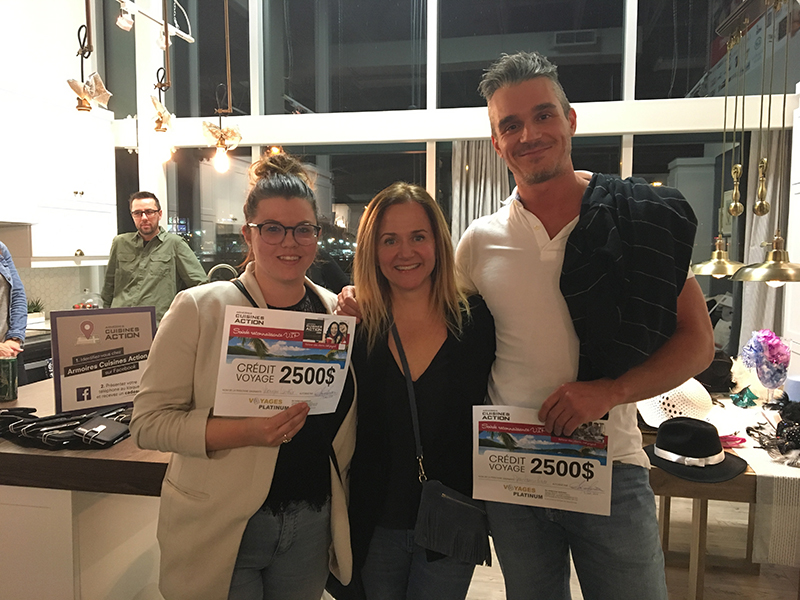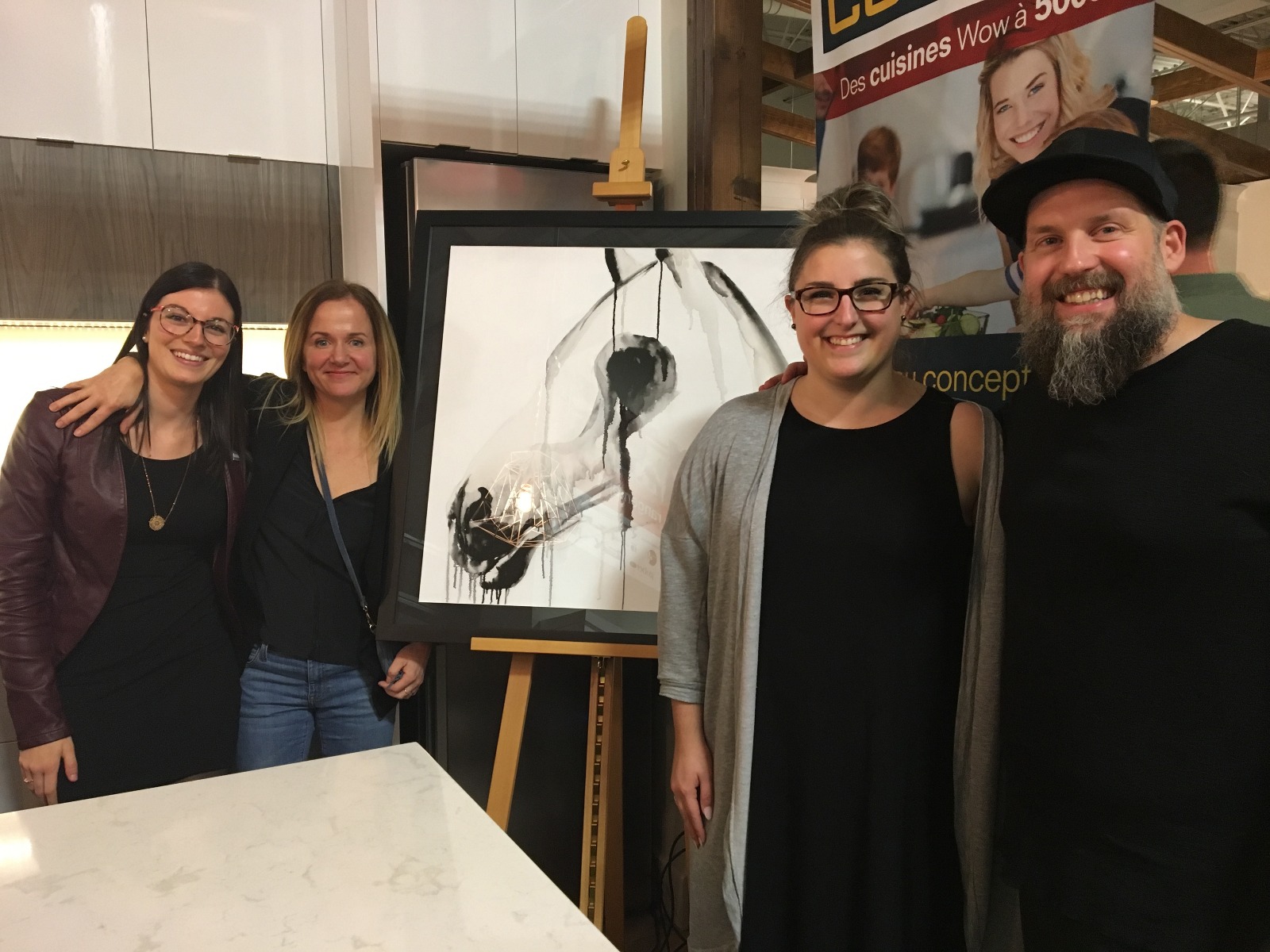 Privilege Card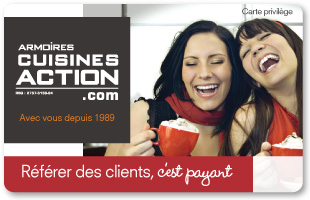 For everyone
Have you had a great experience at Armoires Cuisines Action and want to promote the quality of our products and services to your loved ones? By referring a new customer to us, they not only save on their purchase, but you also benefit from a check discount as a thank you for this much appreciated gesture.— Program details
Distinction Program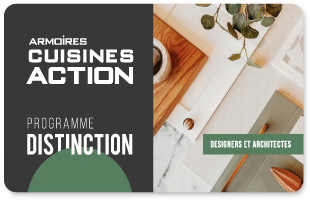 For designers and architects
You are looking for a cabinet and countertop manufacturer who will work with you to create the perfect concept for your customers. By choosing Armoires Cuisines Action, you are guaranteed to be doing business with specialists who will allow you to create the kitchens, bathrooms, storage or walk-in closets of their dreams. When shopping with your client at one of our branches, present your Distinction Program Card and benefit from an advantageous discount dedicated to architects and designers. — Program details